Pub «Old Boys»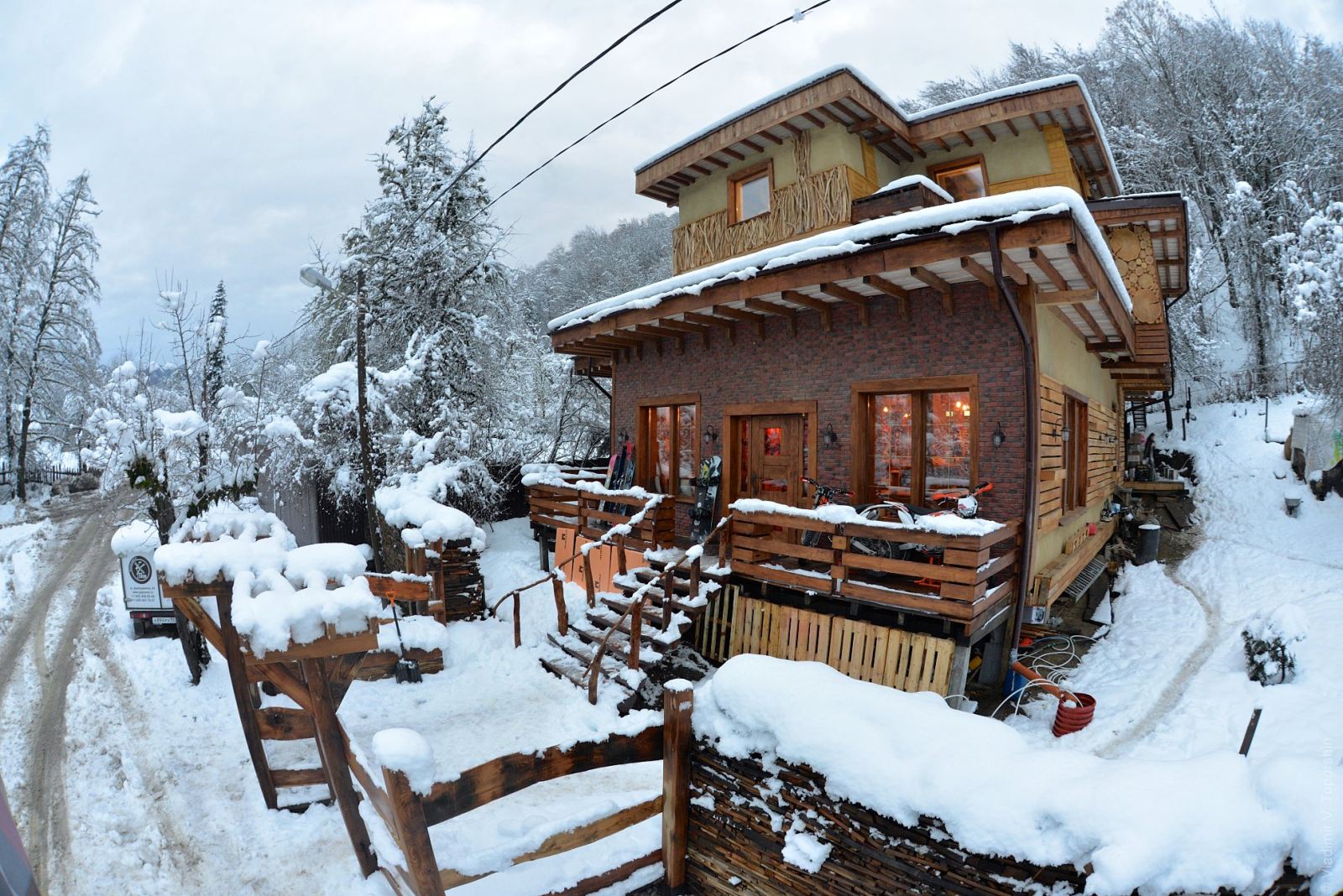 Overview
The road from Krasnaya Polyana to the «Old Boys» pub takes about half an hour. It is really unexpected that somewhere in the mountain village on the serpentine road you can find such a terrific place! It is definitely one of the most distinctive, unusual and pleasant pubs in which you have ever been – there are rooms for guests, snow, freeride and friends – pure thrill. The «Old Boys» pub will organize everything for you: accommodation, delicious food, home-brewed beer, a shuttle service to the ski lifts and a very warm welcome. About the legendary burgers people heard in many parts of the world. To visit the pub with an incredible atmosphere and flavor of the North Caucasus you have to go away from the ski lifts in the village Medoveevka. The «Old Boys» pub offers a welcoming atmosphere, excellent cuisine and quite reasonable prices.
Cuisine
Connoisseurs of fine dining come to us specifically to taste our specialties: tender shank with honey crust chewy, hearty juicy burgers, ravioli with a variety of seasonal fillings. You may also try the spicy beer, sparkling apple cider and sweet mead, which are made by small parties specifically for the «Old Boys» pub. And, of course, treat yourself with your favorite homemade desserts. Our Chef is famous with his insistence to quality of products. He checks personally each batch of meat, poultry and fish farming delivered to us only by proven expert farmers. All dishes are prepared with the freshest seasonal ingredients, making our guests enjoy the local gastronomic flair.
Occasions
The «Old Boys» pub offers a wide range of home infusions, teas and beer of our own collection. You will not find products of famous brands here, but you will be surprised with hand-made dishes and beverages. The «Old Boys» pub is a popular place for corporate events, weddings and seminars.
Cuisine: American, European, Russian, Pub.
Restaurant services: Drinks, After-hours, Accepts Mastercard, Accepts Visa, Digital Payments, Full Bar, Outdoor Seating, Reservations, Seating, Serves Alcohol, Takeout, Waitstaff, Wine and Beer.
Suitable for: Child-friendly, Local Cuisine, Groups.
Website: http://kpsoap.ru/oldboys/#gastropub
Telephone: +7 938 495-04-95
Comments