Ski Resort




Ski Resort
Ski Resort of Sochi
Sochi mountain area is a popular Russian ski resort. It is famous for it's warm climate and freeride areas, while also good for newbies with wide range of slopes.
Whatever your skill is – you will be satisfied with many green, blue, red and black slopes, freestyle parks, freeride areas. Sometimes weather is so good – people take sunbathes in bikinies and topless. Also the winter season starts late, best time for riding is starting from the end of January till end of March. But resorts are open from the end of December until end of May.
It's always a good idea to track the weather before buying tickets if you are freerider, as slopes are open all the time, but freeride areas will be exhausted within a week after a snowdrop.


So Krasnaya Polyana has four ski resorts: "Alpika-Service", "Mountain Carousel (Gorky Gorod)", "Gazprom" (Laura) and "Rosa Khutor". Three of them – Rosa, Alpica and Carousel (left to right) are on the same ridge of Aibga mountain. However with many pluses where are some minuses – a resort still doesn't have united skipass, and there are 4 different properties oriented for people with different skill levels. In the near future probably they will unite in a common ski area. And one more, Gazprom, is opposite to them, on the plateau Psekhako.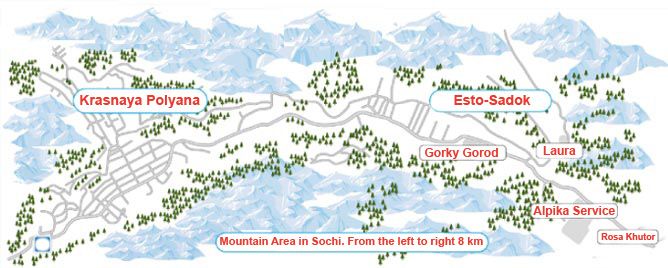 Ski Resort for different skill levels:
We strongly recommend Gazprom (Laura) for begginers as the slopes are wide and flat. Mountain Carousel and Rosa Khutor will satisfy experienced riders with tough, narrow slopes with a lot of slopes and will test your skills. Freestylers can try parks in Rosa Khutor and seasonable camps at Mountain Carousel. Alpika Service is temporarily closed for reconstruction. During winter time there are many different activities take place – world championships, ski and snowboarding contests, meetings. Lots of people come there to enjoy riding with like-minded people.
Official websites of resorts:
Alpika-Serivce
Gazprom (Laura)
Mountain Carousel (Gorky Gorod)
Rosa Khutor
Comments