Restaurant «La Terrazza»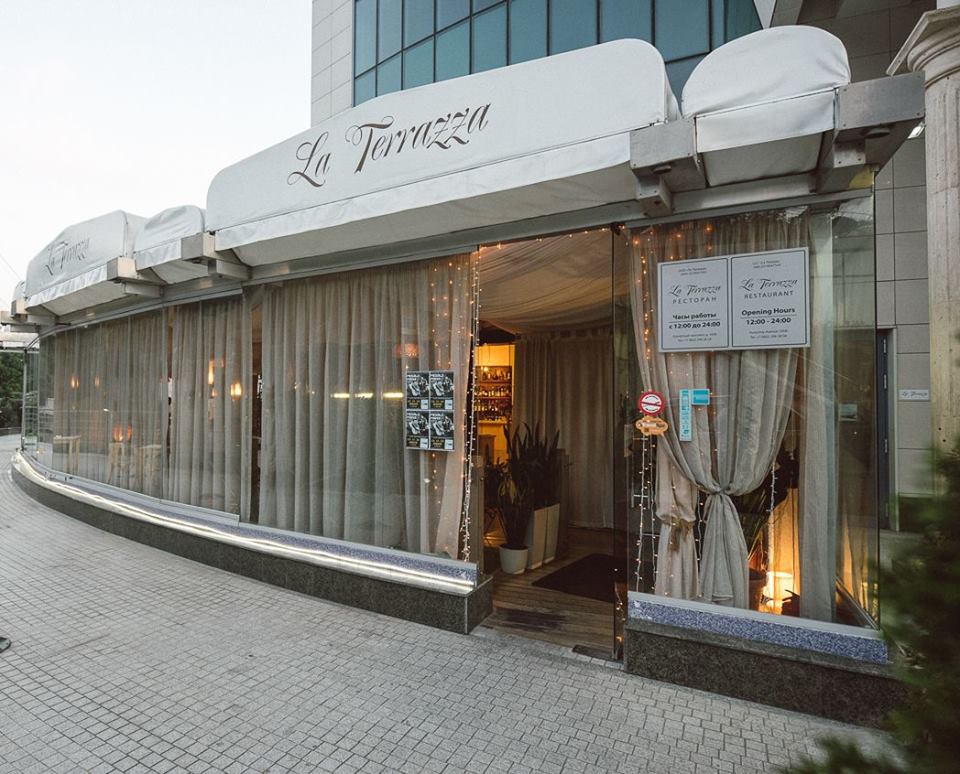 Overview
«La Terrazza» is an Italian restaurant, it is located in the prestigious Royal Park Residential Complex on Kurortniy prospect near the Radisson Lazurnaya Hotel, a little piece of Italy in Greater Sochi. That's how Italian cuisine fans often call La Terrazza restaurant. Peace, light drapery, wicker furniture, just feel the light breeze, imagine the narrow streets leading to the harbor with a fish market, smell freshly baked chiabatta from the bakery across the street.
Cuisine
Come on in the «La Terrazza» restaurant and all the tastiest dishes of Mediterranean cuisine will be on your table! You can enjoy them sitting on the terrace in the calm atmosphere or settle down inside in the banquet room.  Waiters will describe each dish, help you to make the choice and recommend something really unique and perfect just for you. Here you can try authentic pizza on thin crust with crunchy crisp, delicious home-made pasta, fresh green and vegetable salads, various meat and fish dishes, we always have the freshest seafood and incredibly delicious desserts. There are best brands of the New and Old World in the Wine List. Restaurant's sommelier will always assist you and offer the most suitable pair to your dish.
Occasions
«La Terrazza» is a family restaurant with home-made Italian cuisine and just like at home you can do everything: have dinner during the week, organize family brunch on a weekend, big or small event. Brand-chief Irina Titova and Chief Andrei Obukhov wil cook for you something delicious! In «La Terrazza» restaurant there are regularly organized master-classes for kids and adults. And in restaurant's deli you can always buy fresh baked pastry or tasty dessert. "So delicious" – that's what the guests usually say and come back. Join this cozy company!  Enjoy, be happy, eat, and share your thoughts and ideas. Bon Appetit!


Cuisine: European, Italian.
Restaurant services: Dinner, Accepts American Express, Accepts Mastercard, Accepts Visa, Free Wifi, Full Bar, Highchairs Available, Parking Available, Reservations, Seating, Serves Alcohol, Takeout, Television, Validated Parking, Waitstaff.
Suitable for: Groups, Child-Friendly, Special Occasion.
Website: http://la-terrazza.ru/en/
Telephone: +7 862 296-58-58
Comments