Café & bar «VinoGrad»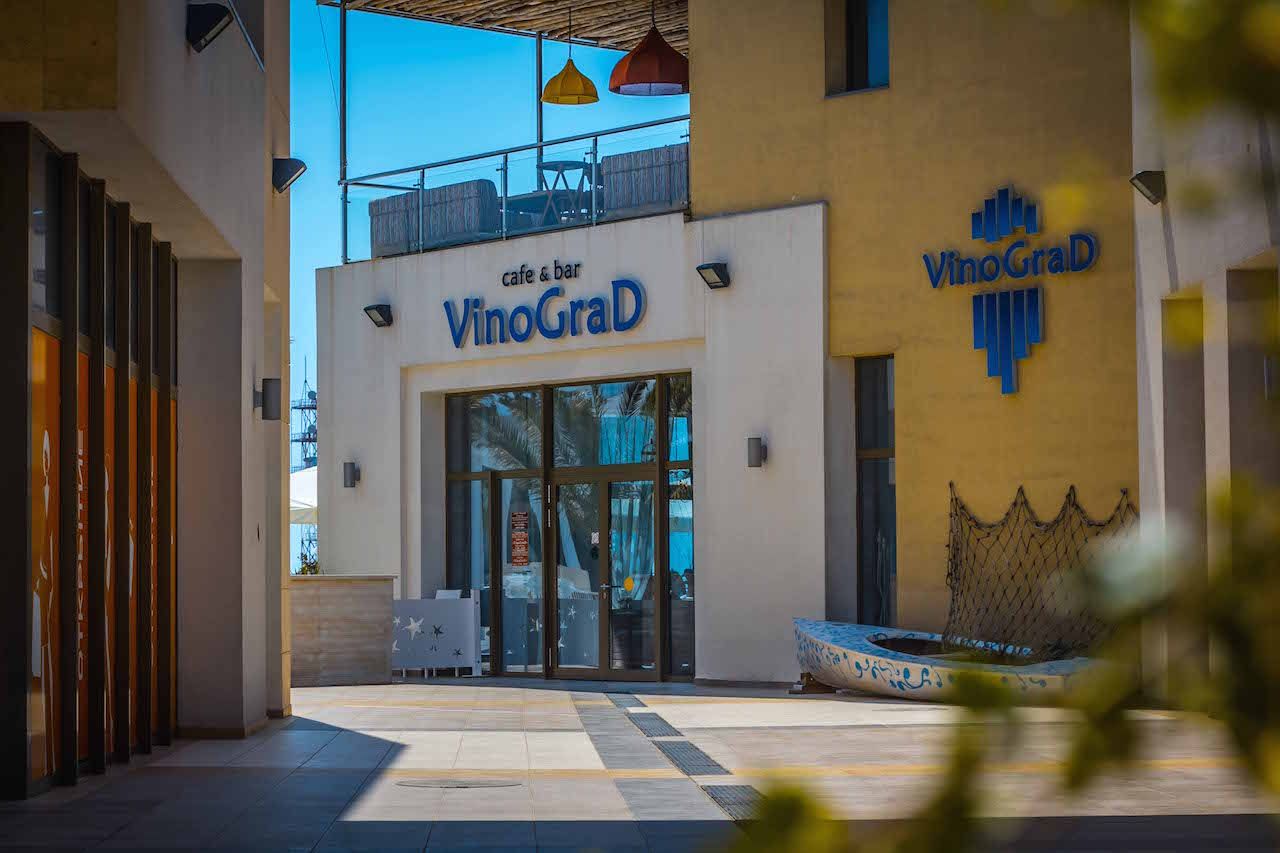 Overview
The Black Sea, which washes the southern borders of the former Soviet Union and a number of European countries, the ancient Greeks called – Pont Euxine, which translated as a very hospitable sea. On the central waterfront of this friendly sea in the Adler district of Sochi on Bestuzhev street 1/1, in the territory of the shopping center "Mandarin" is located an original café-bar «VinoGrad». It offers you to enjoy the perfect combination of exciting interior solutions, the presence of VIP – tables, smoking and non-smoking zones. Panoramic windows overlooking the picturesque waterfront will allow to enjoy the charming Black sea and look at the sunset.
Cuisine
The menu in the café-bar «VinoGrad» includes the original filing of the European and national Caucasian cuisine, some dishes are cooked on the grill. Here you can also find a special home-made desserts. A 15 meter high pole bar offers our guests a wide range of alcoholic and non-alcoholic drinks and cocktails from the classic to the author mixes. The wine list also offers you a huge selection for every taste. An Arabian coffee, cooked in the sand will invigorate you!
Occasions
Café-bar «VinoGrad» has a very welcoming staff and impeccable service. In this place you can enjoy the best modern hookahs. Hand-made by Egyptian engravers hookahs «Khalil Mamoon» received international recognition, as well as the status of the best. Café-bar «VinoGrad» offers you to try and assess the popular tobacco brands:
«Al Fakher» – the most popular tobacco from the United Arab Emirates, which has long established itself among hookah lovers.
«Starbuzz» – California tobacco premium, which is considered by many connoisseurs of art hookah to be one of the best. Enjoy the magic of the Black sea with friends or family in the «VinoGrad» café-bar!
Cuisine: European, Caucasian.
Restaurant services: Dinner, Accepts Mastercard, Accepts Visa, Full Bar, Reservations, Seating, Serves Alcohol, Takeout, Waitstaff.
Suitable for: Groups, Local Cuisine.
Website: http://www.vinograd-sochi.ru/
Telephone: +7 862 234-55-66
Comments