Bar «Cocos»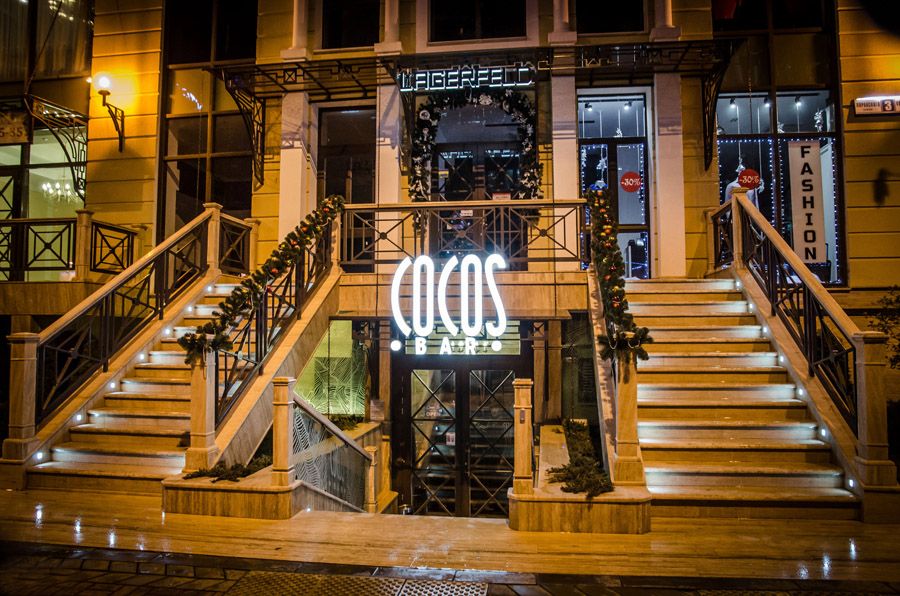 Overview
At your disposal in the heart of Sochi is located the best night cocktail bar named «Cocos». The name of this bar comes from coconut cult in many cultures, this special nut concentrates the energy of the sun, air and water and nourishes and tones like no other product. As for the music format of the bar «Cocos» there are different styles of background music in the daytime: from love rock, indie and soul to electronic and hip-hop. While evening music style can be designated as «refined electrecism», there are dance sets of fashionable DJ, and live perfomances of artists in Pop, Jazz, Funk and Soul genres.
Cuisine
The concept of the cuisine and the bar «Cocos» is based on dishes and cocktails, having coconut products in their composition. Bar menu, for your convenience, is divided into four sections: tropical cocktails, ideal for Asian cuisine (Mai Thai, Zombie, Tortuga). Classic twist attracts the attention of man (Wild Fashioned, Mister T, Periodista Viejo). Fancy section is dedicated to the most beautiful part of humanity (Chinese Market Martini, Fei Joa Margarita, Companero). But what distinguishes bar «Cocos» from other famous places in Moscow, London and New York? This is the section of author created cocktails with a piece of coconut inside – unusual combinations of ingredients makes your favorite drinks taste different!
Occasions
Interior of the bar «Cocos» is performed in natural style – soft brown and beige colours, natural materials and, of course, coconut mosaic. In addition to the main hall and the dance area, this bar contains three completely isolated VIP-rooms: for business, for pleasure, for amusement (Karaoke room), designed for the company from five to fifteen people, equipped with plasma screen and telephones. Each room provides the opportunity to adjust the volume of music playing in the bar, there are separate areas for smoking or non-smoking visitors. This format is ideal for both business meetings and friendly gatherings or romantic dates. Besides that you can perform your favorite song in a circle of friends and have fun from the heart while reserving Karaoke room in the bar «Cocos».
Cuisine: European, Japanese, Thai.
Restaurant services: After-hours, Drinks, Reservations, Serves Alcohol, Seating, Waitstaff.
Suitable for: Special Occasion, Groups.
Website: http://cocos-bar.com/english
Telephone: +7 862 264-41-54
Comments