Restaurant «La Luna»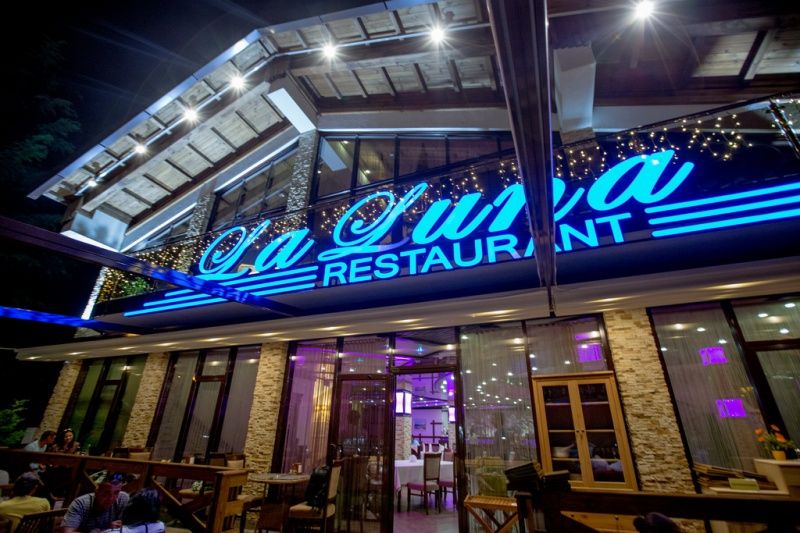 Overview
As in any large resort, Sochi has a big variety of places to eat, drink and relax. Restaurants of Sochi are mostly that holiday treats which are essential to rest on the Black Sea coast. Great welcome and excellent cuisine are things that attracts people to visit Sochi cafes and restaurants. And one of the best restaurants in the beautiful city of Sochi is «La Luna»! «La Luna» is one of the most famous restaurants in the Adler district of Sochi. It is located in a quiet and cozy place, just in two minutes walk from the beach. In the central part of Sochi there are enough cafes and restaurants, but many residents of the city and its guests still come to Adler, in «La Luna»!
Cuisine
The menu in the restaurant «La Luna» is one of the richest. The restaurant offers dishes of Russian, European and Caucasian cuisine. Guests will find in the menu a large amount of meat and fish dishes from the freshest ingredients. The restaurant also has a wide selection of grilling and barbecue. Such dishes are the original card of Sochi. For fish lovers this place has a different range of sea food.
Occasions
Expensive interior, good food, large selection of noble drinks, excellent service – all this is the essential criteria in the choice of the restaurant for business meetings or celebrating holydays. «La Luna» is a modern restaurant, which provides facilities for visitors with very high demands. After a recent renovation in «La Luna» restaurant a new prestigious halls VIP category have opened, with six, ten and twenty seats. In order to serve more guests and corporate events you can order a banquet hall.
Cuisine: Mediterranean, European, Russian, Caucasian.
Restaurant services: Lunch, Dinner, Breakfast, After-hours, Free Wi-fi, Reservations, Seating, Serves Alcohol, Takeout, Waitstaff.
Suitable for: Local cuisine, Child friendly, Groups, Cheap Eats.
Website: http://www.cafe-laluna.ru/
Telephone: +7 928 459-22-29
Comments