Restaurant «Lighthouse»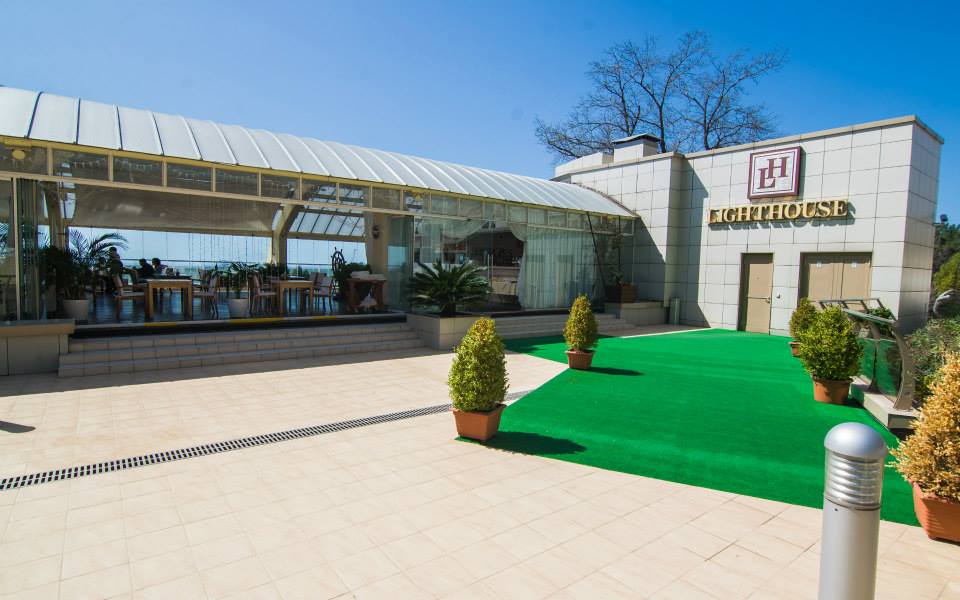 Overview
Restaurant «Lighthouse» is the best panoramic place in Sochi. It is located on the 7th and 8th floor near the residential complex «Lighthouse of Alexandria». Included in the top 10 best panoramic restaurants in the south of Russia. The restaurant is in 2-minute walk from the pebble beach of the Black Sea and 5 minutes from the concert hall «Festival». Enjoy the meal, try the delicious dishes that are cooked with love. Decent service, stable quality. A large selection of fine wines. The music in Lounge style, and not only that… Free parking for our dear guests.
Cuisine
Beautifully designed menu includes a great selection of salads, hot dishes, snacks and desserts from Caucasian, Russian and European cuisine, such as spiced salted Herring, rolls of eggplant with «Feta» cheese and greens, Scallops with asparagus and cream sauce, black cod with potato quenelles and mini vegetables, chocolate Fendant and many others. You can also choose different kinds of alcoholic drinks – beer, wine and spirits.
Occasions
Expensive classic interior on the first floor with high panoramic windows and access to a large balcony with tables. A good place for contemplation of the azure shores, solitude and a romantic dinner. «Crystal» hall for 80 persons is suitable for banquets as well. VIP-room with private access to the balcony, up to 12 persons. «European» hall is located on the second floor. Capacity is up to 250 people in the luxury glassed terrace. Feel like standing on a cruise ship in the seaport. Opposite the main entrance you will find a great neighborhood with international class PULLMAN and Mercure hotels.
Cuisine: Seafood, European, Caucasian, Russian.
Restaurant services: After-hours, Accepts Mastercard, Accepts Visa, Full Bar, Highchairs Available, Outdoor Seating, Reservations, Seating, Serves Alcohol, Television, Waitstaff, Take Away, Free Wi-fi, Free parking.
Suitable for: Special Occasion, Child-friendly, Large groups.
Website: http://lhsochi.ru
Telephone: +7 862 237-74-74
Comments