Pub «Yeti»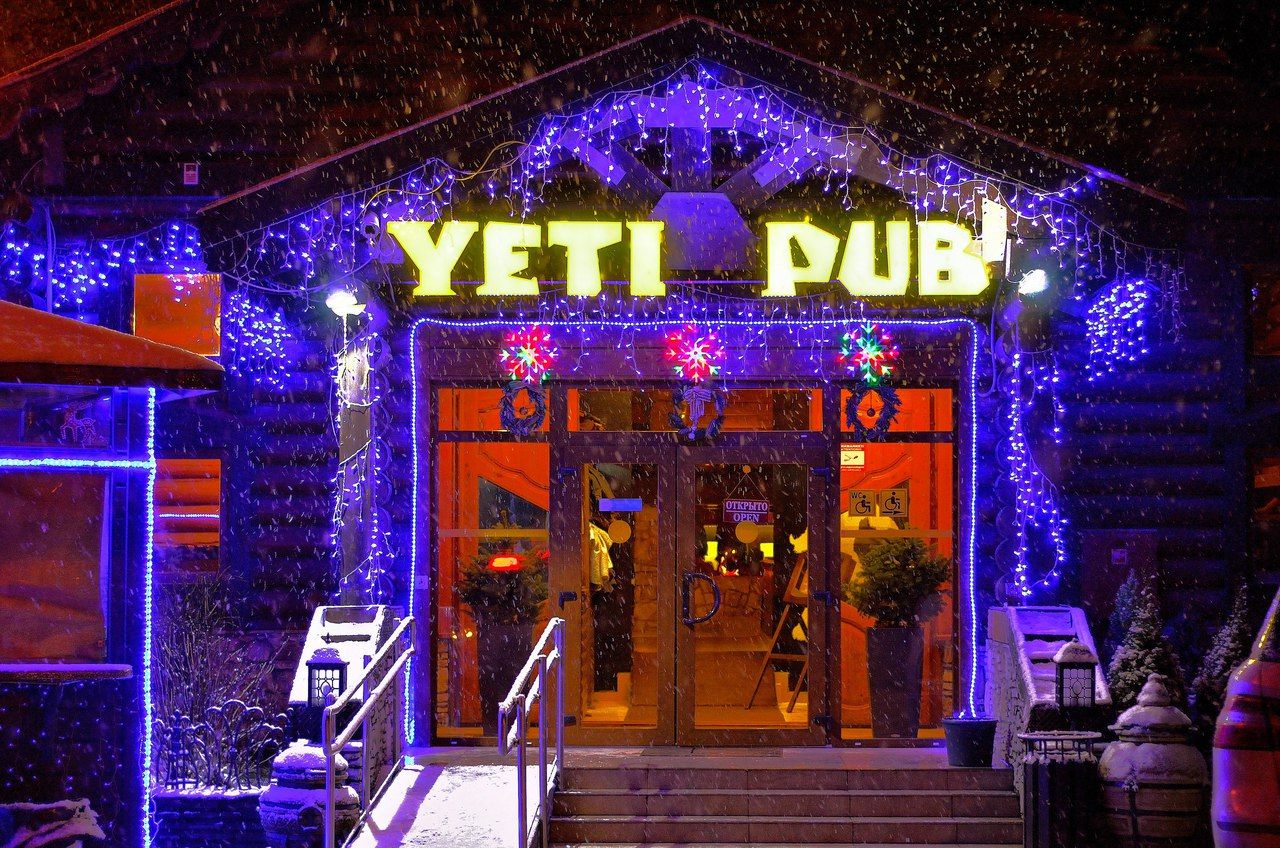 Overview
«Yeti» pub is located in the heart of Krasnaya Polyana. In this place you can smell good food, good music and noisy parties. Beautiful homely atmosphere creates by the fireplace standing in the middle of the hall. The interior of this pub is very original, comfortable, but at the same time modern and memorable. The friendly staff will help in the selection of dishes and drinks.
Cuisine
In the daytime «Yeti» pub is a real restaurant with European, American, Russian and French cuisine at the highest level. In the menu you can find different varieties of crafting beers, cocktails, salads, appetizers, such as fish and chips, very tasty garlic croutons, branded burgers «Krasnaya Polyana», «Kamchatka», «Alaska», «Chile», «Chamonix», «Elbrus», «New Zealand», to the services of vegetarians – burger «Green Peace». In the evening, when the light dims, this delicious and aromatic charm is added to drive the bar with a furious energy and unique cocktails like «Yeti Long», «Long Island», «Bloody Mary», «Strawberry Daiquiri», «Sex on the Beach». Menu in the «Yeti» pub is completely soaked in a mountain theme.
Occasions
And all this in the «Yeti» pub is made with the music by the resident Sandy and the best DJs and musicians of Russian Federation. In this pub already was Darguzhas Tanya, Darya Bezhenar, Steppa Style, SiberiaHills, Vladislav Interesniy, Nel, General Mike, Dj Pasha Fookin, Dj Rich, Black Lenin, L.Rock (DubRaw), Nevzorov (Die Sekte), Mike Pawn, URS , Dj Escape. This pub is a good place for watching sports with a group of friends or family. In the evening hours in the «Yeti» pub you can participate in different events such as lectures, meetings with professional riders or watching interesting films.
Cuisine: Bar, Pub, American, European, Russian.
Restaurant services: Accepts American Express, Accepts Mastercard, Accepts Visa, Free Off-Street Parking, Free Wifi, Full Bar, Outdoor Seating, Parking Available, Reservations, Seating, Serves Alcohol, Takeout, Television, Waitstaff, Wheelchair Accessible.
Suitable for: Groups, Special Occasion.
Website: https://www.facebook.com/yetipubkp
Telephone: +7 918 909-71-78
Comments