Café «Follow Me»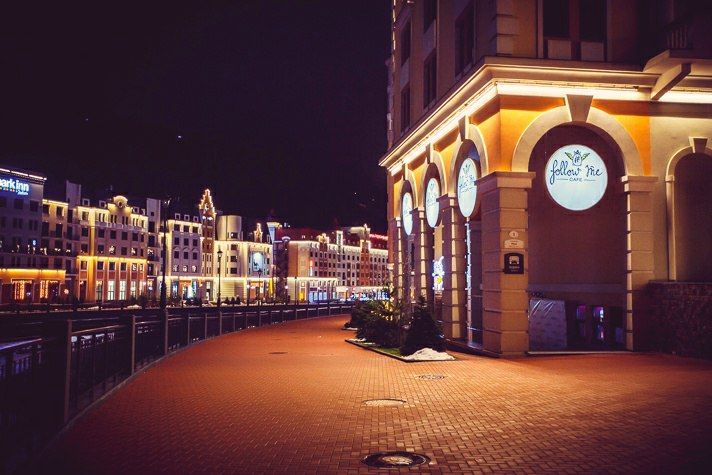 Overview
«Follow Me» café is located in the central area of ​​the ski resort «Rosa Khutor», in a building opposite the lift to the mountains. This is café & terrace with stunning views of the river Mzymta and the mountains at the foot of the Main Caucasian Ridge, with a cozy atmosphere and an interesting interior. «Follow Me» café have an unusual combination of European and pan-Asian cuisines.
Cuisine
Menu of the «Follow Me» café will be enjoyed by each visitor. You can try specialty rolls from the Chef, Mediterranean salads, grilled meats, Mexican snacks, fresh burgers, and even delicious desserts from our own pastry shop. Bar menu of the «Follow Me» café is presented as a traditional alcoholic drinks and mixes, as well as a huge selection of brand-name author cocktails, long drinks and shots created by the brand bar manager. All guests can enjoy a refreshing cocktail, a wide range of aperitifs and bright entertaining show program with the participation of flair artists and interactivity.
Occasions
The friendly staff serves quickly and professionally. It is important to note, that the café is opened until the last customer. Café «Follow Me» is a worship place of recreation, this is a conceptual place with original night partying and a relaxed atmosphere. Design of the interior is a mix of different styles: light installation of multi-colored ball-shaped lamps, comfortable sofas with cushions, armchairs and bright accents make this place original and welcoming at the same time. Night parties with sets of the best Russian and foreign DJs are regularly held here, so you can enjoy all of these pleasure with your friends!
Cuisine: Italian, Japanese, European, Eastern European.
Restaurant services: Dinner, After-hours, Lunch, Brunch, Accepts American Express, Accepts Mastercard, Accepts Visa, Delivery, Digital Payments, Free Wifi, Full Bar, Highchairs Available, Outdoor Seating, Reservations, Seating, Serves Alcohol, Takeout, Television, Waitstaff, Wheelchair Accessible, Wine and Beer.
Suitable for: Special Occasion, Groups.
Website: http://followmecafe.ru/rosa-khutor/
Telephone: +7 963 162-01-02
Comments