Café «La Strada»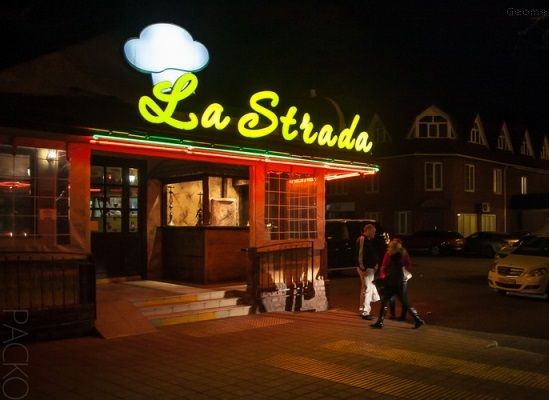 Overview
Family Italian café «La Strada» invites you to enjoy a huge variety of delicious dishes. This café's menu allows to reasonably considered to be the best pizza in Sochi. «La Strada», an Italian café in Sochi, located off the coast of the Black Sea in a quiet, verdant village of Hosta, hospitable throwing open its doors to guests who come on holiday in Sochi, and the residents of this wonderful city. Here you can find even a wood-fired pizza! This method of cooking is not common, so come on and try the best pizza in the café «La Strada»!
Cuisine
Cosy pizzeria in Sochi «La Strada» offers a menu of the café and pizzeria menu. You will be warm welcomed, staff will offer you a refined and classic Italian dishes, very tasty, cooked in a wood-fired oven pizza, as well as a wide variety of dishes cooked on the grill! Many Italian café in Sochi cook on charcoal. The Italian café and pizzeria «La Strada» opted for pizza on the wood. This place also offers a menu teeming with seafood and fish! At breakfast, Italian café «La Strada» offers "bruschetta", "frittata" and sweet risotto! For younger guests this pizzeria provided a children's play area and special menu! The «La Strada» café's menu bar card features a large selection of alcoholic and non-alcoholic cocktails. This pizzeria also offers a wide selection of fine spirits, wines and fresh draft beer.
Occasions
Italian café in Sochi «La Strada» is waiting for you: sofas and armchairs, balcony with flowers and a summer terrace, where you can enjoy a cup of coffee, smoke a hookah, take advantage of free Wi Fi internet access. A pleasant, homely atmosphere is another advantage of the «La Strada» café. This is a real Italian pizzeria in Sochi, magic moved from the shores of the Adriatic to the Black Sea coast. This comfortable, classic Italian café in Sochi is waiting for you every day and all year round!
Cuisine: Pizza, Italian.
Restaurant services: Dinner, Accepts Mastercard, Accepts Visa, Free Wifi, Full Bar, Reservations, Seating, Serves Alcohol, Takeout, Waitstaff.
Suitable for: Groups, Child-Friendly.
Website: http://www.lastrada-sochi.ru/
Telephone: +7 918 199-99-51
Comments